All of our art instructors are accomplished Northwest artists and/or expert art educators, that are passionate about sharing the gift of ART with YOU.  The AL Studio works closely with our art instructors to provide the best in-class art instruction that will engage, inspire, and encourage every student interested in creativity and artistic self-expression! The AL Studio is privileged to provide top-notch art instruction for all of our children classes, teens classes, kids camp, art party, Paint & Sip, adults classes and the customized creative experiences that we offer.
Crystal Hering
Art Instructor
Crystal earned a Bachelors in Fine Arts from Central Washington University after putting in many studio hours on drawings, oil paintings and sculptures. Crystal minored in museum studies, after finding this interest from working at the Sarah Spurgeon art gallery and  two of museums. In spare time she works on artworks inspired by nature, with a surreal and whimsical influence. Crystal worked with children and teaching art for years in her native home of Portland Oregon
Mia Dutton
Art Instructor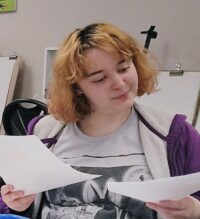 Mia is a graduate of the Massachusetts College of Art and Design, having earned her Bachelor of Fine Arts degree in Illustration. She has worked with a variety of media and a variety of styles, most commonly watercolor, graphite, and pen and ink. Her personal specialties are character design (the human figure), narrative illustration, and comics. Mia loves helping kids find new ways to learn and think about art!
George Ngo Tang
Art Instructor
Raised in San Jose, California, George worked with a variety of mixed media from metal, ceramics, graphite, and various type of paints.  His interest is in calligraphy, abstract and modern art style components. George received his B.A of Visual Art Design from the Evergreen State College. Having the ability to guide the students to express themselves through aspects of design and art knowing that the students are utilizing their creativity and willingness to discover new ways of creating art.
Barbara Krug
Art Instructor
Barb received a Bachelors in Fine Arts from University of Illinois, Urbana/Champaign and a Masters of Fine Arts from University of California, Irvine both are in Scenic Design for the Theater. For the last 7 years she has been a digital illustrator creating math and science games for kids K-5. Barb loves to pick up a paint brush and use watercolors and acrylics. She published her first children's storybook that teaches kids how to use math in 2019. She illustrated the storybook using watercolor and ink
Liam Savage
Art Instructor
Liam Savage has a Bachelor in Fine Arts and went to school for game design. He is a long time illustrator, with a background in traditional illustration, traditional painting, and digital art. His work's themes often include Superheroes, Dinosaurs, and Pokémon. His art's style leans towards realism along with slight stabilization reflective of western comic book art. Peers have described him as kind, easy to work with, and possessing a good sense of humor!
Ariana Taylor
Art Instructor
Ariana Taylor graduated from Western Washington University with a Bachelors in Elementary Education and a Minor in Teaching English to Speakers of Other Languages. By day she teaches fifth graders reading, writing, and science, and by night she teaches art at AL Studio.  Her hope is to use her expertise with children to teach and inspire, and to show kids that telling your story through art and illustration can be just as important and gratifying, as telling it in words.  Her favorite mediums are pencil and acrylic, especially enjoys fantasy illustration.
Tiffany Tao
Manager/ Art Instructor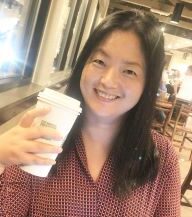 A major in Fine Arts from the acclaimed China Art University, she taught art in middle schools, universities as well as her family-owned private fine art school that housed 300-500 students. She was an interior designer manager in several architectural firms for over a decade, with offices in England, Singapore, Germany and Australia. Tiffany started AL Studio in 2011 at her house, which now has locations in Kirkland and Bellevue. Tiffany is a big fan of "Go Veg, be Green, for World Peace."
Vince Kodikal
Co-founder/ Adults Art Program Instructor
Vince is a business strategist working in healthcare field . He graduated from the esteemed Sir J.J. School of Art in Mumbai, India. His first illustrated book – The Panchatantra, was published in 6 countries around Europe and he donated the proceeds to a kid's charity. He was also an art guest speaker in university,  museum and marketing UX for Boeing in the past of twenty years in Seattle.  He hosts weekend workshops at AL Studio for Adults, specializes in illustration, acrylics and water colors.